Englænderen Thomson Bonar var søn af en købmand, og hans familie var ikke af adelig herkomst, men må have været relativt velhavende, da de boede på det fornemme Camden Place, Chislehurst, England, og kunne bekoste en bestilling hos Thorvaldsen.
Bonar mistede 29. april 1817 sin syvårige søn, Thomson Henry Bonar, under et ophold i Rom, og han bestilte samme år et gravmæle over drengen hos Thorvaldsen. Monumentet skulle bestå af et relief med De tre Marier ved graven, samt en indskrift og to våbenskjold, som Thorvaldsen dog ikke skulle udføre. Relieffet blev tilsyneladende aldrig realiseret, selvom Thorvaldsen udførte adskillige tegnede udkast til gravmælet, bl.a. C192r og C195, samt bagsiden af et brev af 18.4.1818.
I 1817 bestilte Bonar også sønnens buste hos Thorvaldsen. Den blev udført i marmor i 1819, jf. værkstedsregnskabet, og befinder sig i dag på Thorvaldsens Museum, A893.
Ved efterforskninger i England i 1948 stødte Else Kai Sass, op. cit., på en gravsten over Bonar-familien på St. Nicolas kirkegård i Chislehurst: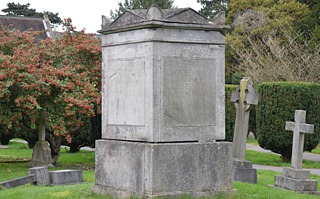 Indskriften på stenen gengives her efter Sass, op. cit., og omtaler bl.a. Thomson Bonar og hans hustru Anastasia Bonar :
"saceed to the Memory of Thomson Bonar Esq.re of Camden Place, Son of Thomson Bonar and Anne his Wife.
Born January 12th 1780
Died December 1st 1828
[...]
Also of
Anastasia Jessie his Wife, daughter of Matthew Guthrie esq of Hawkerton
Born March 1st 1782
Died June 20th 1855"
Og videre om sønnen Thomson Henry Bonar:
To the Memory of a Most Amiable and Affectionate Boy
Thomson Henry
second son of Thomson Bonar of Camden Place in This Parish Esquire
and of Anastasia his wife who died in Rome XXIX April MDCCCXVII
in the Eighth Year of his age.
Ophold i Rom
Fra 29.4.1817 eller tidligere, jf. sønnens død.
Første halvdel af 1819.
Værker på Thorvaldsens Museum
Se Bonar repræsenteret i Kataloget.
References
Else Kai Sass: Thorvaldsens Portrætbuster, vol. I, København 1963-65, p. 355-363.
Thiele II, p. 342-343.
Last updated 22.11.2016