Thomson Henry Bonar døde den 29.4.1817 under et ophold i Rom, kun syv år gammel. Hans far, oberst Thomson Bonar, bestilte herefter hos Thorvaldsen en marmorbuste A893, samt et relief til drengens gravmæle.
Thorvaldsen udførte adskillige tegnede udkast til gravmælet, bl.a. C192r og C195, samt bagsiden af et brev af 18.4.1818. Det lader dog ikke til at være blevet realiseret i marmor.
Busten blev imidlertid udført i 1819, jf. Thorvaldsens værkstedsregnskab. Originalmodellen til busten kendes ikke, men marmorversionen blev i 1950 indkøbt af Thorvaldsens Museum, A893.
Oplysningerne om Bonar-familien er sparsomme, men ved efterforskninger i England i 1948, stødte Else Kai Sass, op. cit., på en gravsten over Bonar-familien på St. Nicolas kirkegård i Chislehurst: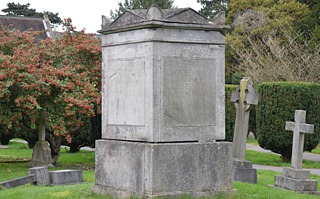 Gravstenen har en længere indskrift, bl.a. om familien Bonar, herunder også om Thomson Henry:
To the Memory of a Most Amiable and Affectionate Boy
Thomson Henry
second son of Thomson Bonar of Camden Place in This Parish Esquire
and of Anastasia his wife who died in Rome XXIX April MDCCCXVII
in the Eighth Year of his age.
Værker på Thorvaldsens Museum
Se Bonar repræsenteret i Kataloget.
References
Else Kai Sass: Thorvaldsens Portrætbuster, vol. I, København 1963-65, p. 355-363.
Thiele II, p. 342-343.
Last updated 21.11.2016