Anastasia Bonar var hustru til Thomson Bonar og mor til den syvårige Thomson Henry Bonar, der døde 29.4.1817 under et ophold i Rom. Thorvaldsen udførte en buste af sønnen, A893.
Oplysningerne om Bonar-familien er sparsomme, og arkivet indeholder kun én lille billet fra Anastasia Bonar til Thorvaldsen, hvor hun ønsker ham en god rejse og beder ham om at overdrage breve til nogle venner på hendes vegne.
Ved efterforskninger i England i 1948 stødte Else Kai Sass, op. cit., på en gravsten over Bonar-familien på St. Nicolas kirkegård i Chislehurst: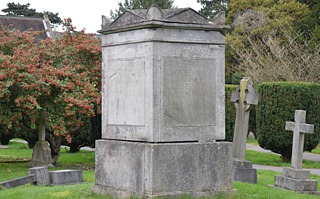 Indskriften på stenen gengives her efter Sass, op. cit., og omtaler bl.a. Anastasia (Jessie) og hendes mand Thomson Bonar:
"saceed to the Memory of Thomson Bonar Esq.re of Camden Place, Son of Thomson Bonar and Anne his Wife.
Born January 12th 1780
Died December 1st 1828
[...]
Also of
Anastasia Jessie his Wife, daughter of Matthew Guthrie esq of Hawkerton
Born March 1st 1782
Died June 20th 1855"
Værker på Thorvaldsens Museum
Se Bonar repræsenteret i Samlingerne.
References
Else Kai Sass: Thorvaldsens Portrætbuster, vol. I, København 1963-65, p. 355-363.
Thiele II, p. 342-343.
Last updated 22.11.2016