In terms of both materials and motifs, the category Thorvaldsen's works is so broad that it cannot be treated comprehensively and accessibly in a single Related Article. Accordingly, the works of Bertel Thorvaldsen are here subdivided into the categories of artworks listed below, each of which corresponds to a keyword or topic in the Archives' register of "Subjects." This makes possible a mode of access to Thorvaldsen's overall oeuvre that is both nuanced and viable.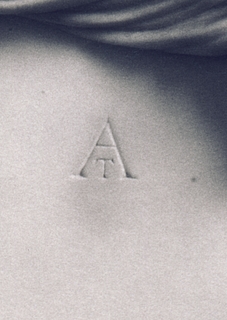 Thorvaldsen's monogram, as it appears
on the relief Night, A901.
The first effort to catalogue Thorvaldsen's works at Thorvaldsens Museum was undertaken by director Ludvig Müller, and published in 1848. Müller divided the collection into three main groups—statues, reliefs, and portrait busts—as well as a variety of subgroups. This method of division is largely followed here, though with certain minor variations, and with the addition of drawings as a new main group.
Statues, Allegories
Statuer, Classical Mythology
Statuer, Christian Mythology
Reliefs, Allegories
Reliefs, Classical Mythology
Reliefs, Christian Mythology
Portrait Statues, Historical Persons
Portrait Statues, Contemporary Persons
Portrait Reliefs, Thorvaldsen's
Portrait Busts, Historical Persons
Portrait Busts, Contemporary Persons
Portrait Medallions, Thorvaldsen's
Portrait Drawings, Contemporary Persons
Self-Portraits by Thorvaldsen
Drawings, Allegories
Drawings, Classical Mythology
Drawings, Christian Mythology
Drawings, Norse Mythology
Drawing from Works of Art
Drawing from Life
Drawings, Painterly Executed
Drawings, Sketches for Non-Realised Works
Drawings, Sketches for Realised Works
Funerary Monuments, Reliefs
Funerary Monuments
"Monuments, Historical Persons and Events:/emner/monumenter-historiske-personer-og-begivenheder
Monuments, Comtemporary Persons
Genre Scenes
Plaster Casts, Thorvaldsen's Works
Thorvaldsen's Works, Copies After Authenticity
Thorvaldsen's Works, not at Thorvaldsens Museum
Lost Works by Thorvaldsen
Thorvaldsen's Works, Executed by Others
Se desuden:
Commissions, Survey
Contemporary Reproductions of Thorvaldsen's Works
Last updated 28.06.2016