Teksten til denne biografi er under udarbejdelse.
Gibson kom til Rom i oktober 1817 med en anbefalingsskrivelse til Thorvaldsen. Han blev dog ikke i første omgang elev af Thorvaldsen, men derimod af Canova. Efter Canovas død i 1822 blev Thorvaldsen imidlertid en slags mentor for Gibson, idet han rådgav og understøttede ham i hans arbejde.
I et brev til forfatteren Edward Bulwer Lytton af 2.1.1836 skriver Gibson, at han aldrig modellerer et værk uden at konsultere Thorvaldsen og andre, og han peger samtidig på, at det i Rom er helt gængs praksis at rådføre sig med andre kunstnere om sin kunst:
"I never model a work without consulting Thorvaldsen and others and have always found great benefit from this practice – it is combining together to advance art – where art is a mere trade this is not the practice."
Thorvaldsen mødte John Gibson igen under sit ophold i Rom i 1841-1842.
Gibson døde i Rom og ligger begravet på den protestantiske kirkegård.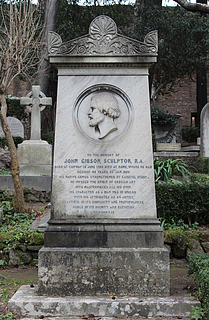 John Gibsons grav, Cimitero Acattolico, Rom
Gravstenen bærer indskriften:
TO THE MEMORY OF
JOHN GIBSON, SCULPTOR, R.A.
BORN AT CONWAY 19TH JUNE 1790 DIED AT ROME, WHERE HE HAD
RESIDED 48 YEARS, 27.TH JAN. 1866.
HIS NATIVE GENIUS STRENGTHENED BY CAREFUL STUDY. –
HE INFUSED THE SPIRIT OF GRECIAN ART
INTO MASTERPIECES ALL HIS OWN.
HIS CHARACTER AS A MAN WAS IN UNISON
WITH HIS ATTRIBUTES AS AN ARTIST,
BEAUTIFUL IN ITS SIMPLICITY AND TRUTHFULNESS,
NOBLE IN ITS DIGNITY AND ELEVATION
OF PURPOSE
Portrættet øverst til højre er et udsnit af den britiske maler Penry Williams' maleri fra 1845 på Accademia di S. Luca i Rom.
References
Rigmor Stampe (ed.): Baronesse Stampes Erindringer om Thorvaldsen, København 1912, p. 171.
Harald Tesan: Thorvaldsen und seine Bildhauerschule in Rom, Köln, Weimar & Wien 1998, p. 187-188.
Last updated 03.08.2018