Thorvaldsen udførte i samarbejde med den tyske billedhugger Christian Daniel Rauch tegninger til et gravmæle over William Sidney Bowles i 1808. Ingen af de to kunstnere lader dog til at have været tilfredse med monumentet, eftersom Rauch nærmest frasiger sig ansvaret i brev af 15.8.1811, og Thorvaldsen ikke lader det optræde på nogen lister over sine værker. Det er dermed først for nylig, at monumentet er blevet genopdaget, som et værk udtænkt af Rauch og Thorvaldsen.
William Sidney Bowles var arving til Burford House, Shropshire, England, og blev 24.6.1797 med Elizabeth Rushout. Ægteskabet blev kort, eftersom Sidney Bowles døde i Rom den 13.11.1806 som kun 30-årig efter alvorlig sygdom. Hans enke lod derefter gravmælet for manden på den protestantiske kirkegård i Rom (se foto nedenfor). Sidney Bowles-gravmælet er prominent placeret ved siden af den antikke pyramide for den romerske embedsmand Caius Cestius.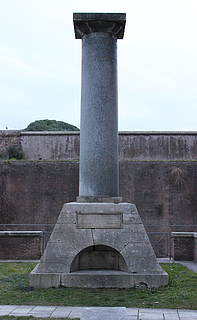 Rauch og Thorvaldsen: Gravmæle for William Sidney Bowles, 1808, Cimitero Acattolico, Rom, parte antica, sten 16.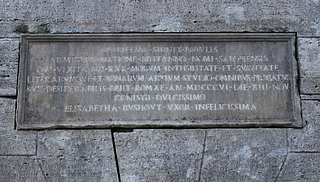 Indskriften på gravmælet lyder:
Mod nord:
GVILIELMO-SIDNEY-BOWLES
ARMIGERO-NATIONE-BRITANNO-NOMI-SALOPIENSIS
QVI-VIXIT-ANN-XXX-MORVM-INTEGRITATE-ET-SVAVITATE
LITERARVMQVE-ET-BONARVM-ARTIVM-STVDIO-OMNIBVS-PROBATVS
SVIS-DESIDERABILIS-OBIIT-ROMAE-AN-MDCCCVI-DIE-XIII-NOV
CONIVGI-DVLCISSIMO
ELISABETHA-RVSHOVT-VXOR-INFELICISSIMA
På søjlen:
G-SIDNEY-BOWLES
ANGLVS
OBIIT-MDCCCVI
Mod syd:
TO-THE-MEMORY-OF
WILLIAM-SIDNEY-BOWLES-ESQVIRE
OF-BVRFORD-HOVSE-IN-THE-COVNTY-OF-SHROPSHIRE-IN-THE-KINGDOM-OF-GREAT-BRITAIN
WHO-AFTER-A-PAINFVLL-ILLNESS-WHICH-HE-ENDVRED-WITH-FIRMNESS-AND-RESIGNATION-EXP
ON-THE-13-NOVEMBER-1806-IN-THE-30-YEAR-OF-HIS-AGE
AS-A-MEMORIAL-OF-THAT-FELICITY-SHE-ONCE-ENJOYED-AND-AS-A-TRIBVTE-TO
THOSE-VIRTVES-WHICH-CONSTITVTED-ITS-SOVRCE-THIS-MONVMENT-IS-ERECTED
BY-HIS-AFFLICTED-WIFE-ELIZABETH-RVSHOVT-DAVGHTER
OF-LORD-NORTHWICK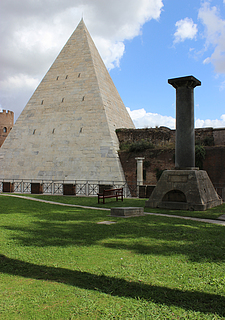 References
Nicholas Stanley-Price: 'See Rome – and Die, Legacies of the Grand Tour in a Roman Cemetery', in: Lisa Colletta (ed.): The Legacy of the Grand Tour: New Essays on Travel, Literature, and Culture, 2016, p. 172, 176, 178.
Last updated 24.05.2019