Familiebaggrund
Elizabeth Rushout var datter af Rebecca Bowles (1740-1818) og John Rushout (1738-1800), 1. Baron Northwick af Northwick Park. Rushout og hendes to søstre, Anne (ca. 1768-1849) og Harriet (ca. 1770-1851), blev hyldet for deres skønhed, og et miniature-portræt af "De tre gratier", udført 1788 eller før af den engelske maler Andrew Plimer (1763-1837), blev kopieret flere gange.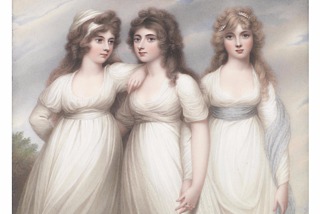 Henry Bone, The Three Graces, The Ladies Rushout, 1809, kopi efter Andrew Plimer.
Gravmælet for William Sidney Bowles
Rushout blev gift første gang som 23-årig den 24.6.1797 med William Sidney Bowles, Burford House, Shropshire, England. Ægteskabet blev kort. Sidney Bowles døde i Rom den 13.11.1806 som kun 30-årig efter alvorlig sygdom, og Rushout lod opføre et gravmæle for manden på den protestantiske kirkegård i Rom, Cimitero Acattolico. Sidney Bowles-gravmælet, der er prominent placeret ved siden af den antikke pyramide for den romerske embedsmand Caius Cestius, blev planlagt 1808 efter tegninger af Christian Daniel Rauch og Thorvaldsen.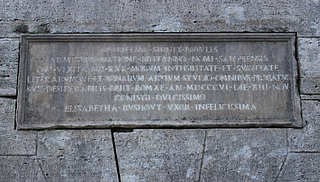 Rauch & Thorvaldsen: Gravmæle for William Sidney Bowles, 1808, ved Cestius-pyramiden, Cimitero Acattolico, Rom
Indskriften på gravmælet lyder:
Mod nord:
GVILIELMO-SIDNEY-BOWLES
ARMIGERO-NATIONE-BRITANNO-NOMI-SALOPIENSIS
QVI-VIXIT-ANN-XXX-MORVM-INTEGRITATE-ET-SVAVITATE
LITERARVMQVE-ET-BONARVM-ARTIVM-STVDIO-OMNIBVS-PROBATVS
SVIS-DESIDERABILIS-OBIIT-ROMAE-AN-MDCCCVI-DIE-XIII-NOV
CONIVGI-DVLCISSIMO
ELISABETHA-RVSHOVT-VXOR-INFELICISSIMA
På søjlen:
G-SIDNEY-BOWLES
ANGLVS
OBIIT-MDCCCVI
Mod syd:
TO-THE-MEMORY-OF
WILLIAM-SIDNEY-BOWLES-ESQVIRE
OF-BVRFORD-HOVSE-IN-THE-COVNTY-OF-SHROPSHIRE-IN-THE-KINGDOM-OF-GREAT-BRITAIN
WHO-AFTER-A-PAINFVLL-ILLNESS-WHICH-HE-ENDVRED-WITH-FIRMNESS-AND-RESIGNATION-EXP
ON-THE-13-NOVEMBER-1806-IN-THE-30-YEAR-OF-HIS-AGE
AS-A-MEMORIAL-OF-THAT-FELICITY-SHE-ONCE-ENJOYED-AND-AS-A-TRIBVTE-TO
THOSE-VIRTVES-WHICH-CONSTITVTED-ITS-SOVRCE-THIS-MONVMENT-IS-ERECTED
BY-HIS-AFFLICTED-WIFE-ELIZABETH-RVSHOVT-DAVGHTER
OF-LORD-NORTHWICK
Gift igen
Elizabeth Rushout blev gift anden gang som 45-årig den 7.8.1819 med den atten år yngre englænder John Wallis Grieve (1792-1860).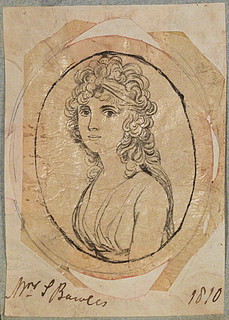 Henry Bone, Elisabeth Bowles, 1810, National Portrait Gallery, London, D 17657.
References
Nicholas Stanley-Price: 'See Rome – and Die, Legacies of the Grand Tour in a Roman Cemetery', in: Lisa Colletta (ed.): The Legacy of the Grand Tour: New Essays on Travel, Literature, and Culture, 2016, p. 172, 176, 178.
Last updated 24.05.2019