7.12.1804
Sender
Bertel Thorvaldsen
Sender's Location
Rom
Recipient
Herman Schubart
Recipient's Location
Montenero
Dating based on
Dateringen fremgår af Herman Schubarts svarbrev af 28.12.1804.
Abstract
Thorvaldsen apologizes for his late answer to Schubart's letter. He thanks him for the commission of Baptismal Font, cf. A555,1. He has almost finished the modelling of Bacchus, cf. A2, and Ganymede Offering the Cup, cf. A41, is currently being carved in marble. He wants to produce a relief of The Contention of Agamemnon and Achilles and a colossal statue of Diomedes. He understands that the portrait busts of the Schubarts, A718 and A719, cannot be sent to Rome at the moment. He asks for the measurements of his relief The Dance of the Muses on Helicon, cf. A705, with a view to having it carved in marble. His health is tolerable. He mentions that he has received payment for the commission to Irina Vorontsova.
Document
Derre kiæ[r]komde[?] brev af 26 NovenberI ser jeg De ikke har bekkomet mit siste Skrivel
Af Deres kiære Brev d 26 Nov[e]mber seer jeg Deres Excellenza ikke har bekommet mit SvarII som jeg har skrevet Postdag derefter det er mig ikke mulig at opfy[l]de min Skyldi[g]hed og Pligt at besvare Dem samme Dag da jeg bekommer Brevene saa sildig saa stor en Heldt som jeg endog er i at skriveIII.
Med stor Glæde imodtog [jeg] det arbejdeIV som Deres Søster Grevinde S[c]him[me]lmannV har den Godhed for mig at jeg maa forferdig[e] men ønskede at have den fornøielse at tale med Deres Excellenza da jeg behøver Deres Raad føren jeg kan giøre en udført te[g]ning og skikk[er] hermed dette lidet UdkastVI imedens
Jeg kan ikke beskrive hvo[r] undt det giør mig at Deres Excellenza maa opholde Dem ennu denne aar[s]tiid paa MonteneroVII med Deres Sygelige GemalindeVIII og tillige saa endsomt[.] maaIX jeg veste Deres Excellenze maatte blevX vinteren over saa vilde jeg med fornøielse komme til Dem og arbejde hos DemXI
Jeg er nu snart ferdig med at modelere en BachusXII af samme størrelse som min GanimedXIII der nu kryber ud af MarmoretXIV og har Componert endel Bareier[?]XV som jeg agter at udføre besynde[r]lig et BarellieXVI som forestiller StridenXVII imellem agamemXVIII og alkiles der vilde dræbe ham agamXIX men bliver tilbageholdt af Minerva[,] jeg har her leælighedXX til at vise alle Grekenlands fø[r]ste EroiXXI som var i denne forsamling[,] tillig tenker [jeg] paa at modellere en DiomedesXXII som bortfører Paladium fra Troja samme størrelse som min JasonXXIII. Dersom min Helsen tillader det saa [tænker] jeg at arbejde meget[,] min Helbred er Gudskelov temlig god jeg har igen føelt nogen LivsmerteXXIV og Rider nu en Halv Time hver Dag paa Rideskolen som giør mig godt
at BysterneXXV ikke kan komme hertilXXVI for det første begriber jeg meget vel, og ønskede kun at Deres Excellenze samt Deres Gode Gemalinde var her saa kunde Busterne snart giøres igienXXVII. jeg beder saa omtrendt størrelsen om hvor mange Romerske PalmerXXVIII mit BasireffXXIX langt og bredt da her er et smuk stykke marmor som jeg synes kunde være passende[.] med min VexelXXX har det ingen Hast[,] jeg var først da jeg kom her i Forlegenhed for Penge da TorloniaXXXI ikke vilde udbetale mine for Grevinde VorentzowffXXXII men nu har han faaet BrevXXXIII fra hende og jeg er betaldt og er en Riemand af 400 og 25 Piastre
Oversættelse af dokument
From your welcome [?] letter of November 26th I see that you have not received my last letter
From your dear letter November 26th I see that Your Excellency has not received my answer which I wrote the next mail day it is not possible for me to fulfil my duty and obligation to answer you the same day as I receive the letters so late, so great a hero I even am at writing.
With great pleasure did [I] accept the work which your sister Countess Schimmelmann has the kindness for me to allow me to make but i wished to have the pleasure of speaking to Your Excellency as I need your advice before I can make an executed drawing and herby I send this small sketch in the meantime
I cannot describe how sorry I feel that Your Excellency still at this time of the year has to stay at Montenero with your invalid wife and besides so lonesome. If I knew that Your Excellency had to stay over the winter I should come to you with pleasure and work at your place
I shall soon have finished modelling a Bacchus of the same size as my Ganymede now crawling out of the marble and have composed some bas-reliefs which I intend to execute especially one bas-relief which represents the strife between Agamemnon and Archilles who wanted to kill him Agamemnon but is detained by Minerva, here I have the opportunity to display all the first heroes of Greece who were in this assembly, furthermore I am thinking of modelling a Diomedes who carries off Paladium from Troy the same size as my Jason. If my health permits me, I think I shall work a lot, my health is thank goodness rather good I have again felt some pain in my abdomen and am now riding for half an hour every day at the riding school it does me good.
I understand very well that the busts cannot come here for the time being and only wished that Your Excellency as well as your kind wife were here then I could soon remake the busts. I ask the approximate size of how many Roman palms my bas-relief is long and wide as here is a slab of beautiful marble which I think might be suitable. There is no hurry with my bill. At first when I came here I was in trouble for money as Mr Torlonia would not pay me for Countess Vorontsova, but he has now received a letter from her and I have been paid and am a rich man of 400 and 25 piastre
[Translated by Karen Husum]
General Comment
This sheet of paper has served several purposes. In order to understand the mutual relation and chronology of the individual parts, they will here be dealt with together.
The sheet contains five parts on both sides:


One bill for rent from Camillo Buti, dated 22.11.1804.
Two pencil sketches for Baptismal Font, cf. A555,1.
Thre short identical drafts, dated 30.11.1804
One longer draft, dated 30.11.1804
One longer draft, undated, above
In order to establish the sequence in which the paper has been used, Camillo Buti's bill of 22.11 is the original document and the natural starting point.
It then seems reasonable to assume that the two sketches for Baptismal Font constitute the next step in the use of the sheet because the pencil drawings are under the ink, and because Thorvaldsen was not likely to have drawn on a piece of paper which he had already filled with writing as it would have been difficult to get a sense of the drawing. See more about the commission in The Baptismal Font for Brahetrolleborg Church.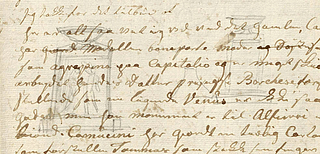 Two pencil sketches for Baptismal Font, cf. A555,1, excerpt of the sheet with various drafts.
Draft of one or two letters?
Regarding the three drafts, Thiele I, p. 259-60 writes that they are drafts of two letters. The drafts dated 30.11.1804 were combined into one letter that was finished and sent off the same day – according to Thiele.
He then thinks that Thorvaldsen – after a week of reflection – discovered that he had not responded to the most important part of Schubart's letter of 2.11.1804 and the friendly reminder of 26.11.1804, i.e. whether the sculptor accepted the commission for the baptismal font for Brahetrolleborg. Therefore Thorvaldsen sent another letter 7.12.1804, the date of which we know from Schubart's reply of 28.12.1804, and of which the above is a draft.
This explanation, however, seems unlikely. It is also possible that Thorvaldsen did not send off a letter on 30.11.1804, based on his first drafts of that date but only sent one answer Schubart, i.e. that of 7.12.1804 based on a combination of the drafts of 30.11 and the above undated one.
This is also suggested by Schubart's answer of 28.12.1804, in which he only mentions Thorvaldsen's letter of 7.12.1804 and writes nothing about an earlier letter of 30.11.1804. And when you consider the contents of all the drafts and Schubart's answer of 28.12.1804, there is nothing to indicate that Thiele's assumption is correct.
The two pencil sketches for the baptismal font at Brahetrolleborg Church also suggest that the five drafts only resulted in one letter that was sent off. The baptismal font has been in Thorvaldsen's mind as the first part of his planned answer to Schubart.
Therefore, it does not seem very likely that Thorvaldsen "…had forgotten to mention what his answer was really about, i.e. whether he would accept the commission for the baptismal font for Countess Schimmelmann." (Thiele I, p. 260). It is more likely that Thorvaldsen's answer was delayed, perhaps because of too much work or, rather, because of his well-known dislike of writing letters.
The chronology of the sheet.
Therefore, the sheet seems to have been filled in the following five stages as outlined in this picture of the two sides of the sheet of paper: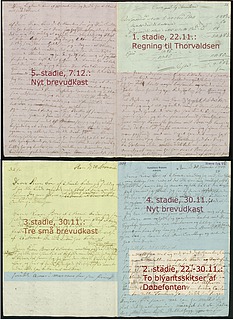 The sequence of the sections of the sheet.
The green section shows a bill for rent from Camillo Buti which, because of the date 22.11, must be the first use of the paper.
In the masked section in the blue part of the text, Thorvaldsen made the two sketches for the baptismal font after having received Schubart's letter of 26.11.1804 at the end of November 1804. He must have reached for the nearest piece of paper, got hold of the bill, turned the sheet around, and started drawing.
In the yellow section he must then have begun the first three short fragments of the draft of 30.11.1804.
In the blue section he must then have begun the slightly longer draft of 30.11.1804 on top of the pencil sketches. This longer draft begins on one page and ends with its last line on another page, below the three short drafts, so the longer draft must have been written after the three short ones and also been based on them.
In the red section he then – probably after a good week – returned to the matter, turned the sheet again and wrote one more draft – the above. On the basis of his drafts he finally succeeded in writing and sending off his unknown answer of 7.12.1804.
Although the matter cannot be determined with certainty, this explanation of the chronology of the bill, the pencil drawings, and the drafts seems the most likely.
Document Type
Egenhændigt udkast
Archival Reference
m28, nr. 19b
Thiele
Gengivet hos Thiele I, p. 260-261.
Subjects
Baptismal Font to Brahetrolleborg Church
Montenero
Loans and Bills of Exchange
Portrait Busts, Contemporary Persons
Reliefs, Classical Mythology
Reliefs, Christian Mythology
Statues, Classical Mythology
Statues, Christian Mythology
Drawings, Sketches for Non-Realised Works
Drawings, Sketches for Realised Works
Thorvaldsen's Unwillingness to Write
Thorvaldsen's Illness 1803-04
Thorvaldsen's Works, Commissioning
Thorvaldsen's Financial Circumstances
Vorontsova's Commission
Persons
Charlotte Schimmelmann
Jacqueline Schubart
Giovanni Raimondo Torlonia
Irina Vorontsova
Works
| | |
| --- | --- |
| | Døbefont, Kristi dåb, 1805-1807, inv.nr. A555,1 |
| | Døbefont, Maria med Jesus og Johannes, 1805-1807, inv.nr. A555,2 |
| | Døbefont, Tre svævende engle, 1805-1807, inv.nr. A555,3 |
| | Døbefont, Kristus velsigner børnene, 1805-1807, inv.nr. A555,4 |
| | Bacchus, 1804, inv.nr. A2 |
| | Ganymedes rækker skålen, 1804, inv.nr. A41 |
| | Agamemnons strid med Achilleus, 1804, inv.nr. C22r |
| | Agamemnons strid med Achilleus. Døbefont, 1804, inv.nr. C23 |
| | Jason med det gyldne skind, 1802-1803, inv.nr. A52 |
| | Diomedes bortfører Palladiet, ca 1804, inv.nr. C7 |
| | Diodemes med Palladiet og Odysseus. Døbefont (?), ca 1804, inv.nr. C8r |
| | Achilleus og Penthesilea. Diomedes med Palladiet og Odysseus. Amor. Omfale. Orion dør. Kriger kæmper mod Amazone, 1801-1817, inv.nr. C13r |
| | Prometheus og Minerva. Diomedes med Palladiet. Tempelfront, inv.nr. C74 |
| | Diomedes med Palladiet og Odysseus. Amor og Psyche, ca 1804, inv.nr. C182v |
| | Bacchus. Diomedes med Palladiet. Hebe(?) , ca 1804, inv.nr. C503v |
| | Herman Schubart, 1804, inv.nr. A718 |
| | Jacqueline Schubart, 1804, inv.nr. A719 |
| | Musernes dans på Helikon, 1806, inv.nr. A705 |
Commentaries
Last updated 15.07.2015