Anna Maria Porro Serbolloni døde som 30-årig i 1813, formentlig i barselsseng, jf. Bettoni, op. cit., p. 56, og hendes mand, markisen og politikeren Luigi Porro Lambertenghi, bestilte herefter et gravmæle hos Thorvaldsen, jf. Gravmæle over Anna Maria Porro Serbelloni, A619. Gravmælet blev opstillet i haven ved Casa Porro Lambertenghi, Via Monte di Pietà 15, Milano, jf. LombardiaBeniCulturali, og Bettoni, op. cit., p. 289.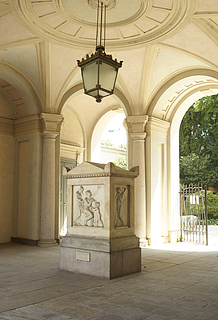 Gravmælets nuværende placering i Galleria d'Arte Moderna, Milano.
Marmorudgaven af gravmælet, der i alt består af tre relieffer og en indskrift, findes i dag i Galleria d'Arte Moderna, Milano. Ud over hovedrelieffet nævnt ovenfor, jf. A619, blev der også udført to side-relieffer, som begge er marmorversioner af tidligere Thorvaldsen-værker, nemlig de to sidefigurer til gravmælet udført 1811-1812 over Auguste Böhmer, hhv. en Nemesis-figur, jf. A614,1 og en fremstilling af dødens genius, jf. A614,3.
Indskriften på gravmælets fjerde og sidste side lyder i afskrift:
ALLA MEMORIA
DI
ANNA MARIA PORRO SERBELLONI
OTTIMA MOGLIE E MADRE
MORTA NEL GIORNO 25 GIUGNO 1813
NELLA IMMATURA ETÀ
DI
ANNI 30. MESI 7. GIORNI 5.
PONE QUESTO MONUMENTO
OPERA DI THORVALDSEN
IL DOLENTISSIMO CONSORTE
LUIGI PORRO LAMBERTENGHI
Portrættet af Anna Maria Porro Serbelloni anvendt i faktaboksen øverst til højre (i udsnit) er udført 1811 af den italienske maler Andrea Appiani og findes på Galleria d'Arte Moderna, Milano, inv. nr. GAM 4373. Se mere om portrættet her.
Værker på Thorvaldsens Museum
Se Anna Maria Porro Serbelloni repræsenteret i Kataloget.
References
Niccolò Bettoni: Le Tombe ed i Monumenti illustri d'Italia descritte e delineate. Con tavole in rame, Milano 1822, vol. 1, p. 54-57.
Last updated 16.11.2020