The list of Bertel Thorvaldsen's male colleagues is long – but what about his female colleagues? For the aspiring woman sculptor at the time, the obstacles were certainly massive. As is well known, women were not admitted to the academies of fine art until much later (that is, the beginning of the 20th century), so the only way of getting an education was to pay for private teaching or find an apprenticeship. Given the restrictions experienced by most women in terms of family, economy and societal norms, chances were that the task would prove exceedingly difficult. What is more, the discipline of sculpture was especially inaccessible because it was conceived of as categorically male (Sterckx 2007, 88–89).
This was, however, the Age of Revolution (1774–1849), and changes were under way. Following the French Revolution, early women's liberationists fought for equal rights, and more women set foot on fields that were regarded as men's turf, including the arts. Among them, two sculptors who belonged to the generation before Thorvaldsen – Anne Seymour Damer (British, 1748-1828) and Marie-Anne Collot (French, 1748-1821) – paved the way for others to follow. The number of women sculptors was small, but it was growing. Yet, as the Belgian art historian Marjan Sterckx has pointed out, the women sculptors of the age remain largely unknown or underrepresented in our times (Sterckx 2007, 86).
Back then, however, the call for equal rights gained currency in artistic circles in Rome, drawing women artists to the city to find education and work and establish themselves.
Thorvaldsen lived just a few houses away from the important Swiss–Austrian painter Angelica Kauffmann, he made close friends with the German painter Louise Seidler, and he supported the education of the Italian painter Giuditta Nalli, to mention but a few of the women painters he was acquainted with in Rome. While there were predictably fewer women sculptors than painters among his associates, they were there. For instance, the British sculptor Teresa Benincampi.
In a letter to Thorvaldsen that is preserved at Thorvaldsens Museum, Benincampi discusses the quality of a shipment of marble intended for the reconstruction of the San Paolo church in Rome, which burnt down in 1823 (1). The two of them were both members of the San Luca Academy, and her letter indicates a friendly relation between equals. Benincampi trained in Antonio Canova's workshop; she was a leading sculptor of portrait busts such as that of the humanist Aldo Manuzio, and she went on to become a professor at the Academy of Fine Arts in Florence (Johns 1997, 243–244). Today, however, her work is surprisingly little known.

Portrait of Adelgunde Vogt by I.W. Tegner and Kittendorff.
Lithograph after daguerreotype, 1859


Thorvaldsen's archives are also rich in information on the Danish sculptor Adelgunde Vogt (1811–1892), née Herbst (fig. 1, 2). A sculptor primarily of animals, she worked in Thorvaldsen's studio at the Royal Academy of Fine Arts in Copenhagen from about the age of 30, from 1840/1841 to 1844. Receipts make clear, for instance, that the clay she used was recycled and returned to the studio and that her bust of the doctor Ole Bang (1843) was cast by one of Thorvaldsen's plasterers. Citations variously present her as 'very diligent', 'working on a horse in natural size', and 'working in Thorvaldsen's studio' (2) (3) (4).
How did the young Vogt make her way into the unwelcoming field of sculpture? After a serious fall at the age of 12, she spent two, bedridden years drawing, cutting silhouettes and carving figurines. Her parents recognized her prodigious talent and engaged a private teacher. Later, she gained access to the studio of the sculptor Hermann E. Freund (1786–1840) and debuted to great acclaim at the Charlottenborg exhibition of 1838 with three works, among which an ivory horse figurine.
After Freund's death, Thorvaldsen granted Vogt a new workspace in his own studio at the Academy, where she began to work on a larger scale. One of the major works she created there, the full-size Standing Horse (1843), prompted Thorvaldsen, who was then Academy director, to recommend her for full membership. As the rules excluded women, however, his recommendation was declined, but she was awarded an honorary membership. Thorvaldsen's efforts on Vogt's behalf clearly indicate his egalitarianism and the legacy of his experience with the progressive art world in Rome.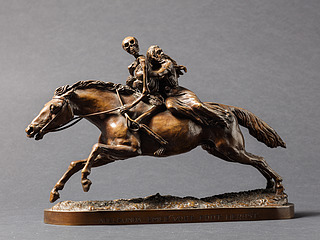 Death abducts a young girl (title unknown) by Adelgunde Vogt.
Private collection. Height: 21.5 cm. Presumably from between 1860 and 1872.


In practice, Vogt was the first woman sculptor at the Royal Academy of Fine Arts in Copenhagen. She worked in Thorvaldsen's studio until his death in 1844. Thereafter, she travelled to Italy on a royal stipend from Christian VIII. During the time she was married and had children, she seems to have broken off her career, but she picked up the thread and exhibited again from 1860 to 1872, moving closer to the French animalier tradition.
Sadly, many of Vogt's sculptures were destroyed in the fire of Christiansborg in 1884, but some still survive in museum collections and public spaces. Today, however, Vogt is
virtually forgotten, and history seems to repeat itself. The works and efforts of Thorvaldsen's women sculptor colleagues clearly remain overlooked. It is time to start looking.


Referencer
Johns, C.M.S. 1997. 'Teresa Benincampi'. In D. Gaze. Dictionary of Women Artists. 2 vols. London and Chicago: Fitzroy Dearborn.
Sterckx, M. 2007. 'Pride and Prejudice: Eighteenth-Century Women Sculptors and Their Material Practices'. In J. Bachelor and C. Kaplan, eds. Women and Their Material Practices, 1660–1830, 86–102. London and New York: Palgrave Macmillan.
Sidst opdateret 29.05.2021