1827
Sender
Bertel Thorvaldsen
Sender's Location
Rom
Recipient
NN
Dating based on
Året, men ikke datoen, fremgår af dokumentet.
Abstract
The commentary for this document is not available at the moment.
Document
OPVS HOC ROMAE FECIT
ET ISLANDIAE
TERRAE SIBI GENTILICIAE
PIETATIS CAVSA DONAVIT
ALBERTUS THORVALDSEN
A. MDCCCXXVII
General Comment
Dette er teksten til den indskrift på marmorversionen af Thorvaldsens Døbefont, jf. A555,1, A555,2, A555,3, A555,4, der befinder sig i domkirken i Reykjavik på Island.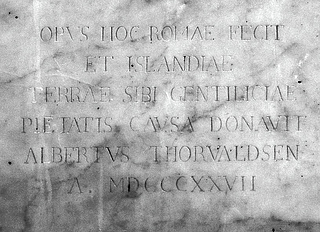 Archival Reference
gmVI, nr. 140
Works
| | |
| --- | --- |
| | Kristi dåb, Tidligst juni 1807 - Senest 1808, inv.nr. A555,1 |
| | Maria med Jesus og Johannes, Tidligst juni 1807 - Senest 1808, inv.nr. A555,2 |
| | Tre svævende engle, Tidligst juni 1807 - Senest 1808, inv.nr. A555,3 |
| | Kristus velsigner børnene, Tidligst juni 1807 - Senest 1808, inv.nr. A555,4 |
Last updated 07.08.2014