23.5.1843
Sender
Bertel Thorvaldsen
Sender's Location
København
Recipient
Clara Beaumarié
Recipient's Location
København
Dating based on
Dateringen fremgår af dokumentet.
Abstract
Thorvaldsen's greeting in Clara Beaumarié's album.
Document
Albert Thorvaldsen,
Copenhagen d. 23 Mai 1843I
General Comment
This greeting is written in Clara Beaumarié's album under a drawing of a winged youth playing a lyre: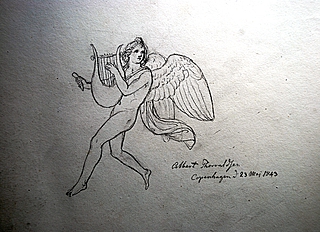 Thorvaldsen seems to have taken an interest in this figure around 1843. It is similar to another Thorvaldsen drawing from the 1840s, C1160, a hovering lyre-playing Cupid, who, however, is not shown as a youth but as a small boy. There is a striking likeness to the relief Cupid's Swan Song, cf. A456, from the same year as the greeting in the album. However, since the figure in Beaumarié's album does not have Cupid's quiver, it may be interpreted more broadly as the genius of Harmony as e.g. in the relief The Genii of Poetry and Harmony, cf. A528, also from 1843.
Document Type
Færdigt egenhændigt dokument
Archival Reference
Heinrich-Heine-Institut, Düsseldorf,

HHI

.AUT.2007.5025.96.TG.
Thiele
Ikke omtalt hos Thiele.
Other references
Francis Maillard: Deaux Orléanais au XIXe siècle, Paris 2015.
Francis Maillard: "Madame C. Beaumarié: das Album, das Reisetagebuch und der Zufall", Heine-Jahruch 51 (2012), pp. 86-98.
Subjects
Alba Amicorum, Albums and Friendship Books
Drawings, Allegories
Works
| | |
| --- | --- |
| | Poesiens og harmoniens genier, 30.7.1843, inv.nr. A528 |
Commentaries
Last updated 04.04.2017