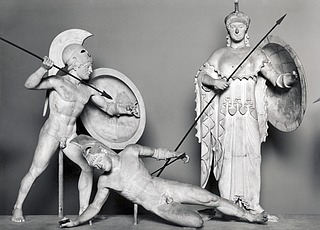 Ægineterne, vestgavlen, Afaia-templet, Ægina, omkring 500 f.v.t.
med restaureringer – nu fjernede – af Bertel Thorvaldsen. Opstillet i Glyptothek München.
References
Manuela Diliberto: Decouverte et restauration des fronton du temple d'Athena Aphaia a Egine, Paris 2009.
Dieter Gerber: 'Thorvaldsen und seine Ägineten-Ergänzungen. Zu einer Ausstellung im Bonner Akademischen Kunstmuseum', in: General-Anzeiger, 13/14, December 1975.
Christiane Grunwald: Zu den Aegineten-Ergänzungen, Köln 1977.
Heiner Knell und Hanno-Walter Krufft: 'Reopening of the Munich Glyptothek', in: Burlington Magazine, vol. 114, London 1972, p. 431-436.
Lars Olof Larsson: 'Thorvaldsens Restaurierung der Äginaskulpturen und die Antikenauffassung des Klassizizmus', in: Neue Zürcher Zeitung, 19. November, Zürich 1972.
Lars Olof Larsson: 'Thorwaldsens Restaurierung der Aegina-Skulpturen im Lichte zeitgenössischer Kunstkritik und Antikenauffassung', in: Konsthistorisk Tidsskrift, Stockholm 1969, no. 1.
Dieter Ohly: Die Aegineten. Die Marmorskulpturen des Tempels der Aphaia aus Aegina. Ein Katalog der Glyptothek München, vol. I, Die Ostgiebelgruppe, München 1976.
Raimund Wünsche: Kampf um Troja, 200 Jahre Ägineten in München, 2011.
Last updated 26.05.2018