Thorvaldsen's Cohabitants in Casa Buti
Translation by David Possen

A list of those lodged at Casa Buti, Via Sistina 46-51, Rome, during the first half of the nineteenth century. Casa Buti served as a long-term residence for Bertel Thorvaldsen and other artists, particularly those from Germany and Denmark. The Danish poet B. S. Ingemann called Via Sistina "Lykkens Gade", attesting to the heartwarming depth of fellow-feeling among the artists living there.

This list is updated at regular intervals.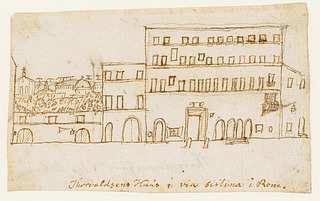 H. C. Andersen, Thorvaldsen's House in the Via Sistina, Rome, October 19, 1833,
Hans Christian Andersen Museum, Odense City Museums.
* In Thorvaldsen's guest room.
References
Documents associated with the topic Casa Buti.
Documents associated with the topic Rent.
Friedrich Noack: 'Casa Buti in Rom', in: Westermanns illustrierte Deutsche Monatshefte für das gesamte geistige Leben der Gegenwart, vol. 45, Braunschweig 1901, p. 788-795.
Last updated 23.04.2019